Hornsea Pottery News & Events
FUTURE SOCIETY MEETINGS
Unless otherwise stated, all meetings will be held on a Sunday at
Members will find more details in their Newsletters
<![if !supportLists]>Ø <![endif]>April 2nd 2017 in Hornsea, AGM (members only, 11.00 to 12.00) then Spring Meeting from 12.00 noon to 5.00 pm
<![if !supportLists]>Ø <![endif]>June 25th 2017 Summer Meeting at Wetwood, Staffordshire from 12.00 noon to 5.00 pm
<![if !supportLists]>Ø <![endif]>September 24th 2017 at Great Ponton, Lincolnshire from 12.00 noon to 4.30 pm
HORNSEA POTTERY NEWS
The Hornsea Pottery Collectors' and Research Society has been in existence since 1992. The 25th Anniversary will be celebrated in Autumn 2017. Look at our Facebook page, Newsletter and websites for updates.
<![if !vml]>
<![endif]><![if !mso]>

<![endif]>

<![if !vml]>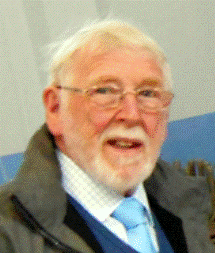 <![endif]>

<![if !mso]>

<![endif]><![if !mso & !vml]> <![endif]><![if !vml]>

<![endif]>John Clappison 1937 - 2013

It is with deep regret we have to announce that Hornsea Pottery's most esteemed designer, John Clappison,              

died on the 21st February 2013 aged 75 years.

He was a wonderful person who brought light and joy to the many people who were privileged to meet him.

The Swinging Sixties at Salts Mill

Visitors to The Home store at Salts Mill near Bradford will be able to see some of John Clappison's designs in a new exhibition entitled The Swinging Sixties.  The book on his life and work, Gone to Pot, is on sale along with some of his recent designs.

An authorised biography on John Clappison

The biography of John Clappison is now published. This has John's full support and cooperation and contains accounts of his experiences at Hornsea Pottery, Ravenhead Glass, Royal Doulton and his recent artistic projects.

Included in the book is a  comprehensive catalogue of all his designs illustrated by many previously unpublished, original pictures.

You can find further information about it, including purchase details on this web site.

The Hornsea Pottery Yahoo Group

All Society members and prospective members are invited to join the Hornsea Pottery Yahoo group. This is a discussion forum, enabling collectors to exchange information, contacts and advertise items for sale. Any member of the group can post a message which is received via email by all other members.

The group has grown with the increasing use of the web, and to guard against 'spammers', anyone who now wishes to join the group will have to do so by approval. As it is very difficult to determine the authenticity of an applicant solely by their email address, prospective members are asked their reasons for joining the group. It  would be useful if, when you apply, you could give your name, your interest in Hornsea Pottery and whether you are a member of the Society.

We would then be delighted to include you in the group which provides a useful method of passing on information quickly to lots of people. You can read previous messages, look at photos that other members have posted and take part in members' polls. Do take part if you can at:             http://groups.yahoo.com/group/hornsea/

Marion Campbell

It is with sadness that we have to report the death of Marion Campbell.

Her designs for Hornsea, especially the African and Arctic figures, stylised vases, dogs, giraffes and cats

are highly prized by collectors.

Dorothy Marion Campbell died on the 3rd October 2005 in hospital.

She lived  in East Yorkshire and died in her 95th year.

All members will receive a tribute to Marion Campbell in the Winter 2005 Newsletter.

This will include an account of her life along with pictures and descriptions of pieces she designed

for Hornsea Pottery.

Opening of the new Hornsea Pottery Exhibition at Hornsea Museum

This new, improved exhibition was opened on Thursday, 17th March 2005. It was funded with the help of the Heritage Lottery Fund and the Market Town Initiative. Any Hornsea collectors who were able to visit would be captivated by this display. Many interesting and rare items of the Pottery's production were displayed in high quality cabinets.

Paul Atterbury, who was present at the opening commented on the high quality of the exhibition. The constant changes in designs and methods of production can make it difficult to see the story of Hornsea's progression in context. This story is explained and displayed well in the new exhibition.

In the evening, Paul delivered a lecture on the work of small, independent pottery companies in the 20th century. He pointed out how it is easier for the smaller potteries to adapt to changing fashions in ceramic design. They can experiment and adapt quickly to new ideas as their production lines and manufacturing times are shorter.

During the post war period many exciting things were going on and most of the developments came from the smaller companies of Poole, Purbeck, Hornsea, Denby, Portmeirion and Midwinter. Those companies changed the nature of British ceramics, especially in the way the industry saw itself and how it was perceived abroad.

In the early 1950's, British ceramic companies were very influenced by Italian, American and Scandinavian design and modernism itself was a global idea. Eventually these companies developed their own recognisable styles, although their influences are still evident.

<![if !vml]>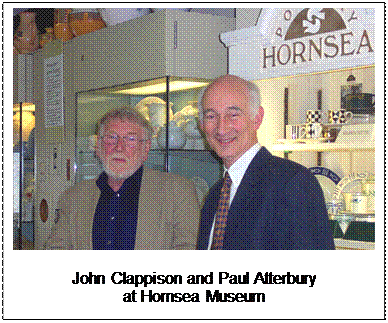 <![endif]>Paul considers it was an extremely brave venture to develop a pottery in Hornsea as there was no ceramics manufacturing base there.
Although the company started in a very small way producing novelties for the tourist trade, it developed a name for original techniques and is remembered today for its innovative designs.
Post-war ceramics are becoming increasingly popular and John Clappison's designs are considered an essential part of a modernist collection. They look very well in a contemporary interior as they have a timeless elegance about them which younger people will buy into.
He found from his experience with the Antiques Road Show that younger collectors are not interested in old Victorian and Edwardian designs. They do want the good things of the 1950's and 1960's because they are cool, elegant and they can understand the degree of modernism that they represent. Many of these stylish items are very much in demand, including Hornsea ceramics.
New Designs by John Clappison
<![if !vml]>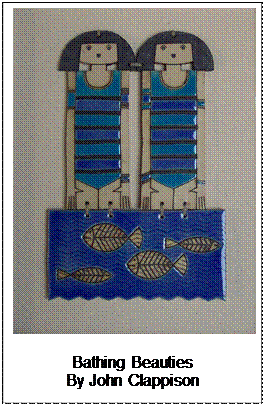 <![endif]>Society members who attend our meetings are often thrilled to find that John Clappison has placed one of his New Muramics in the auction (only members can buy and sell at the auction).
These are designed, produced and fired by John in very small numbers and when they appear, there is some  enthusiastic bidding at the auction. If you would like to see more of these pieces, look at Jerry's site on my links page.
Rumour has it that John's next experimental ceramic will be three-dimensional.
<![if !vml]>

<![endif]>