Frequently Asked Questions
<![if !vml]>

<![endif]>
I wonder if you can tell me more about this trinket pot. I think it looks brilliant although I can't make out how it was made, it does not seem to be printed. Can you help?
<![if !vml]>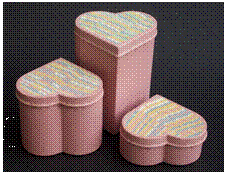 <![endif]>This range of trinket boxes was called Strata, designed by John Clappison and approved by the Design Council
The elaborate lids were made by layering coloured clays in small blocks which were then sliced at right angles to provide a small multi-coloured slice of clay. These slices were reformed into blocks containing misalignments, similar to geological faults, before being sliced again into 1mm thick pieces. From these, circular, hexagonal and heart shaped pieces were cut with implements not dissimilar to biscuit cutters. The shapes were then dropped into the moulds before the liquid clay was poured in. They then went through the normal firing and finishing processes
They were produced for about three years in the early 1980ís in 12 different forms.
<![if !vml]>

<![endif]>
I have a mug that looks like Hornsea and it has a frog inside. Do you know who made it?
This is a product of Scarborough Pottery although the mug was designed by John Clappison and the frog by Alan Luckham. Many Hornsea Pottery designers, modellers and technicians contributed to Scarborough Pottery so it can be difficult to distinguish between the two.
The smaller pig money box below was designed by John Clappison but only a version with a ĎBank of Piggylandí screen print went into production at Hornsea Pottery. Coryfo pottery made a similar type with a Drachma print.
The mould was then donated to Scarborough Pottery which commissioned Alan Luckham to grade it into three different sizes. Scarborough then sold them with hand painted designs or plain glazes. I have seen many of these falsely offered for sale as a Hornsea product possibly because they are included in the 1998 Hornsea book.
A small, limited edition booklet on Scarborough Pottery was produced in 2004 to assist collectors. There are a few copies still available for sale to Society members.
<![if !vml]>
<![endif]><![if !mso]>

<![endif]>

<![if !vml]>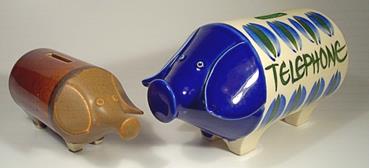 <![endif]>

<![if !mso]>

<![endif]><![if !mso & !vml]> <![endif]><![if !vml]>

<![endif]>

Pig Money Boxes Ė Scarborough Pottery

<![if !vml]>

<![endif]>
I have seen a black animal for sale on eBay, the seller says it is Hornsea but itís not mentioned in the Hornsea Book, should I buy it?
Be very wary! A lot of sellers see the prices that Hornsea figures go for and optimistically imagine that any black animal must be Hornsea. I have seen a number of weird and wonderful figures sell for high prices because the vendor has wrongly peddled them as products of the Hornsea factory including giraffes with enormous ears, elephants, ducks, cats, seals and panthers. Anyone in possession of the Society Book will be able to check the pictures and measurements in there. They are accurately documented (apart from group photo 3 on page 74 which displays a non-Hornsea seal with an open mouth on the front right of the picture). The only animal in this series designed by Marion Campbell which is not in the Book is the Ibex (photo on home page). If you are in doubt over any item suspiciously touted as Hornsea you are welcome to email me and I will attempt to clarify the matter.
<![if !vml]>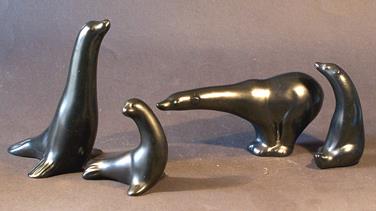 <![endif]>
The genuine Hornsea Sea Lions and Polar Bears
<![if !vml]>

<![endif]>
I have some Hornsea Tableware for sale, do you know where I could sell it?
<![if !vml]>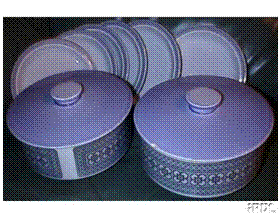 <![endif]>
Most Hornsea Tableware was made in such large quantities that it has no rarity value for collectors. However, someone may wish to buy items to replace lost or damaged tableware. Many people do search for the more unusual pieces such as casserole dishes, large platters and cruets to make up their sets. These more unusual items usually sell well on eBay or you could join the Hornsea Collectors Facebook group at https://www.facebook.com/groups/226280567506256/
<![if !vml]>

<![endif]>
I have a Hornsea Wall Plaque, it has a teak base with ceramic shapes stuck on. Could you tell me how many wall plaques were made and are there any sites that have photos of them?
These wall plaques are called Muramics. Hornsea Pottery made around 14 of the small, teak-backed Muramics. They also produced four 8" square plaques mounted on canvas and two large 17.5" square versions along with two large oblong ones. As you can imagine it's quite an achievement to collect the set.
If you have a look at Maggie's site you will see pictures of quite a few of them:
http://www.angelfire.com/art/hornseapottery/
Society members can buy the Hornsea Book which lists the full range along with descriptions of all Muramics that went into full production. Look on: http://www.hornseapottery.co.uk/
<![if !vml]>
<![endif]>
Could you value a piece of Hornsea for me please?
I do not like to give valuations as prices of Hornsea Pottery are very variable. For a guide to the prices people have actually paid for Hornsea I suggest you look on:
You can also refer to the prices charged on the selling sites on my Hornsea Pottery Links page.
<![if !vml]>
<![endif]>
<![if !vml]>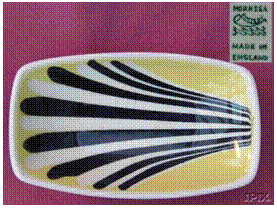 <![endif]>Iíve just started collecting Hornsea and I thought the Home Decor on your site looks great.† Any idea where I can get any plus Slipware, Elegance and other Studiocraft?
I found my vases in all the usual places - Flea Markets, Car Boots, eBay and Antique Fairs. The Hornsea Society meetings are often useful places to pick up unusual pieces. To join, look on: http://www.hornseapottery.co.uk/
<![if !vml]>

<![endif]>
In trying to find Hornsea Pottery on-line I was amazed to see that they called the Receivers in during April 2000. Are they still in business? Is the factory museum/shop still open in Hornsea?
The Hornsea Pottery factory no longer exists. The Receivers couldn't find a buyer so all the assets were sold at auction. Hornsea Folk Museum on Newbegin, Hornsea does have a large collection of the factory's products: http://www.hornseamuseum.com/
and the Collectors Society is thriving. To join look at: http://www.hornseapottery.co.uk/
<![if !vml]>

<![endif]>
I wondered if you might be able to help me understand Hornsea pottery a little better, as I am a complete novice. I inherited 3 pieces of 'Fauna' and I have since purchased 3 more. The problem is that one of them is marked as Hornsea pottery 'Royal' and the others are marked Eastgate pottery Withernsea. They are both 'Fauna' and look the same although the one marked Eastgate is slightly smoother and less detailed. Has Eastgate any connection with Hornsea as I was sold the Eastgate pieces as 'Hornsea'. I am a little confused and would appreciate any help.
<![if !vml]>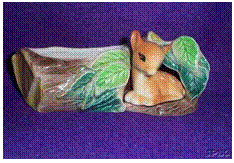 <![endif]>
† Hornsea
A lot of dealers seem to have some confusion over Hornsea and Eastgate and they often try to sell Eastgate items as Hornsea when strictly they are not. Hornsea Pottery first produced Fauna (from 1954-1959) and Fauna Royal (from 1960 to 1967). When Hornsea needed their manufacturing capacity for the large-scale production of tableware in 1967, they ceased producing Fauna Royal. Eastgate Pottery in Withernsea, a smaller concern, offered to buy the moulds and rights to Fauna and started to produce it themselves. As it is not the original, it usually sells at around 2/3rds the price of the Hornsea items.
<![if !vml]>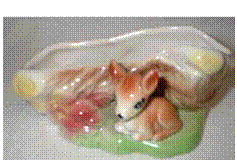 <![endif]>
††† Eastgate
<![if !vml]>

<![endif]>
I have for sale 6 pieces of Hornsea Pottery. They are all small animals at the base of a tree or trunk. Could you advise me on how to sell these please?
The Hornsea pieces you have are probably from the Fauna range. Personally, I don't collect this range of Hornsea Pottery but there are quite a few people who do. You could try selling them on eBay or on a message board.
If you do advertise them for sale, look for the number which should be impressed on the base of each piece and mention it in your advert. This will help everyone to know exactly which pieces you are selling.
<![if !vml]>
<![endif]>
I have recently started collecting Hornsea Pottery tableware as it reminds me of my childhood and our many visits to the Pottery. I particularly like the storage jars. I have pieces of Saffron, Heirloom, Fleur, Cornrose and Tapestry. At the moment my buys are impulsive and indiscriminate, from car boots, jumbles and also ebay auctions. Which of the tableware ranges is the oldest? Also which is the rarest and most collectable?
<![if !supportLineBreakNewLine]>
<![endif]>
Good to see you're collecting Hornsea Pottery. They've produced some lovely pieces over the years. You ask which is the oldest Tableware range. The first full range including tea and dinner services was Heirloom which was made from 1967. This was produced in very large numbers, as were Saffron, Tapestry, Cornrose, and Contrast etc. and consequently they are not particularly valuable. Hornsea Pottery has been producing items of tableware from the early 1950's - cruets, milk jugs, sugar, cheese and butter dishes. Some of these are very rare and collectable, the majority of these items were designed by John Clappison.
<![if !vml]>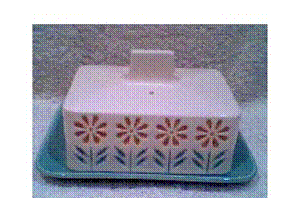 <![endif]>
<![if !vml]>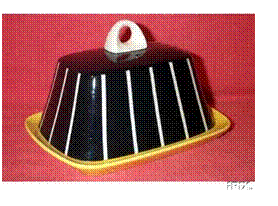 <![endif]>
Springtime Cheese Dish†††††††††††† Elegance Cheese Dish
<![if !vml]>

<![endif]>